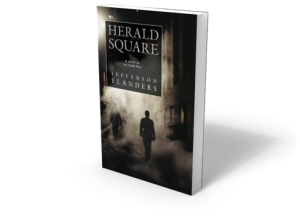 The new Cold War thriller by Jefferson Flanders, Herald Square, has been published and the trade paperback edition and ebook version are now available on Amazon.com and other online booksellers.
PRAISE FOR Herald Square
"Herald Square is one of those books you just don't want to end. It's a pleasurable and a plausible blend of New York, baseball, and intrigue that consistently captures the reality of the late 1940s. I am heartened to understand that there is more to come with The North Building." — Porter Goss, former director, Central Intelligence Agency
"Jimmy Breslin meets John le Carré in Herald Square, a historical novel that paints an artful, darkening picture of New York City and its newspapers in the parlous years after World War II." — Michael Conniff, The Huffington Post
"An inventive and entertaining fictional account of the political stakes, bureaucratic rivalries, and moral ambiguities of the post WWII hunt for communist spies." — Harvey Klehr, co-author of Spies: The Rise and Fall of the KGB in America
"Herald Square is well-written, action packed and engrossing….One hopes for a sequel." — Wes Vernon, Washington Times
---
Read an interview with the author.
TO PURCHASE:
---
Copyright © 2012 Jefferson Flanders
All rights reserved