It was a good year for literary spy thrillers. The six novels briefly reviewed below are, in my estimation, the best of 2012.
My list skews to the historical. I'm not a big fan of modern techno-thrillers where gadgets dominate and where the human factor gets lost. (Come to think of it, that's one of the problems with the focus of US intelligence today). So there are some bestsellers in the genre that don't appear on this list.
Three of the authors highlighted are American (Kanon, Furst, Littell) and three English (Downing, Smith, and Cumming). They are all accomplished storytellers who strive not only for historical accuracy but also to illuminate and examine the moral ambiguities inherent in spying.
With that said, here are my picks:
Istanbul Passage by Joseph Kanon
Kanon is a master at the background research that helps him capture the small details that make his books so believable. Istanbul Passage offers an intriguing look at the spy games played in Turkey's ancient city after the Second World War. Kanon spins a tale that involves a part-time American spy, Leon Bauer, who is drawn into protecting a Romanian operative and Nazi collaborator who may also be a war criminal but has intelligence that Washington wants. There's a subplot involving Mossad operatives seeking to run Jewish refugees past the British blockade of Palestine that adds to the intrigue. Kanon touches upon the conflict between accountability and expediency that surfaced in his 2001 bestseller, The Good German. All told, an absorbing read.
A fuller consideration of Istanbul Passage can be found here.
Mission to Paris by Alan Furst
Furst's Mission to Paris marries a traditionally-plotted story of espionage with an extended celebration of the joys of living in the world's most stylish city. His protagonist, Frederic Stahl, an American film star of Austrian origins who lived in Paris as a young man, has returned to the city in the late summer of 1938 to make a movie. When Stahl refuses to help German agents spread anti-war propaganda in France, he becomes the target of the Nazis.
Furst's decision to have a celebrity, a well-known movie star, as the protagonist of Mission to Paris, is an interesting authorial choice. In many of his other novels Furst tells his story through down-at-heels characters (freelance journalists, exiles in Paris, a ship captain, a mid-level police official, a member of the Resistance on the run) and because they operate on the margins, there's a natural built-in tension. Furst has to work a little harder to scare up threats to Stahl, but by book's end he has succeeded.
A fuller consideration of Mission to Paris can be found here.
Young Philby by Robert Littell
Littell, author of The Company, reimagines the story of the British double agent Kim Philby, focusing on his early career. Littell chooses to have the people in Philby's life—lovers, Moscow Center intelligence officials, his Soviet handlers in the field, his friend and fellow agent Guy Burgess—paint a picture of the most infamous spy of the 20th century. And Littell has some fun weaving in a broad cast of characters into novel: Stalin, Franco, de Gaulle, Beria, James Jesus Angleton, and Philby's larger-than-life father St. John Philby.
Novelists and historians alike have long explored Philby's motives for turning against his class and country and Littell offers up an inventive (and implausible) explanation for this treachery in Young Philby. I think he betrayed for less complicated reasons: Philby was a charming sociopath who found excitement in espionage and took pleasure in secretly attacking those in authority.
Lehrter Station by David Downing
Downing's British-American journalist hero, John Russell, returns to post-war Berlin in this the fifth novel in the popular series. Russell once again is caught between multiple intelligence agencies (British, American, Russian) all trying to manipulate him to their ends and he once again finds a clever way to evade numerous and dangerous traps. Lehrter Station is a solid read, but I'd recommend starting with the first novel in the series, Zoo Station.
I'm curious to see what Downing will do when he eventually runs out of Berlin train stations: the series includes Zoo Station, Silesian Station, Stettin Station, Potsdam Station, and now Lehrter Station.
Agent 6 by Tom Rob Smith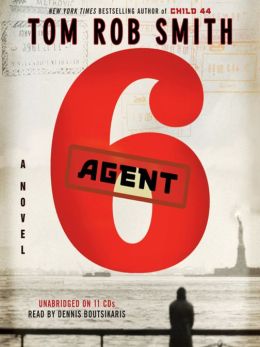 Tom Rob Smith's third Leo Demidov novel, Agent 6 is largely set in the United States. A central figure in the novel is an African-American singer, Jesse Austin, who is closely modeled on Paul Robeson, the wonderfully gifted black athlete, actor, singer and Communist activist. Like Robeson, Austin is revered in the Soviet Union. Like Robeson, Austin's career stalls as the Cold War heats up. But unlike Robeson, Austin has none of the flaws or imperfections that his real-life counterpart had, and this makes the book less interesting. It's a shame, because the tragic story of Paul Robeson, and the Faustian bargain with the Stalinist Devil that he struck could have inspired Smith to fashion a more rounded and interesting character.
Agent 6 is, nonetheless, entertaining and well-crafted and features an interesting detour to Afghanistan during the Russian occupation. I do find it ironic that Smith—so sure-footed in his portrayal of Soviet life in the 1950s in his first two novels, Child 44 and The Secret Speech—struggles with depicting America in the early 1960s.
A Foreign Country by Charles Cumming
The only thriller on this list that is set in the present, A Foreign Country begins with the "find the missing person" premise. Former British secret service operative Thomas Kell is asked to locate Amelia Levene, an MI6 executive scheduled to assume command of the Service, who has vanished while on leave in France. Kell's checkered past includes an episode involving "enhanced interrogation," and while Cumming often slides into a reflexive anti-Americanism (channeling John le Carré) he acknowledges that a Kantian prohibition on torture of terrorists would also have moral consequences. Kell shuttles between France, Tunisia, and England as he tries to unravel a complicated plot aimed at Levene where the villains turn up to be part of the home side.
---
For Top Spy Thrillers of 2013 click here.
Copyright © 2012 Jefferson Flanders
All rights reserved
Click to purchase The North Building, the new Cold War thriller by Jefferson Flanders. You can also find his critically-acclaimed Herald Square at Amazon.com and other online booksellers.