Ernest Hemingway's Across the Rivers and Through the Trees, set in Venice just after the end of World War II, is a challenging novel to read, marred by an unevenness in tone as it explores themes of death and memory. It offers the best of Hemingway (clean descriptive prose, memorable characters, an eye for detail, and a powerful depiction of the horror of modern war) with the worst of Papa (macho posturing, repetitive and wooden dialogue, lame inside jokes, and maudlin philosophical musings). Yet it's Hemingway—he has a way with words, and he knows how to craft interesting characters.
I first read the novel as a teenager, drawn in by the story of Army Colonel Richard Cantwell, a profane, hard-bitten professional soldier with a wounded leg, mangled hand, and failing heart who loves both Venice and his 19-year-old girlfriend, an Italian countess, Renata. It's a May-December romance (Cantwell is 50), one that now raises eyebrows (and today is reserved for rock stars and Hollywood actors).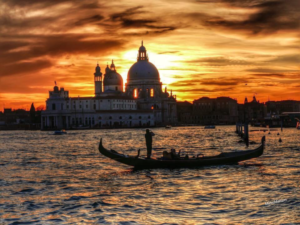 On a trip to Europe this fall, I decided to make a brief stop in Venice. As a historical novelist, I always look for traces of the past when I travel, the lasting aspects of a place. What has survived? What has been transformed? I had seen the news reports of Venetians demonstrating against "overtourism," and I wondered how much that tidal wave of visitors had altered the floating city. (And yes, I recognize the irony of becoming part of the problem by "investigating" it.) When Across the Rivers and Through the Trees achieved bestseller status in 1950, Venice had some 150,000 residents; the city's population has declined to some 60,000, while at the same time some 20 million tourists visit each year. There were seven massive cruise ships docked in Venice when I arrived in mid-October, and it's estimated that their passengers contribute ten percent of the visitor flow.
During my visit, I tried to imagine what Hemingway's Colonel Cantwell would make of today's Venice. He would find the physical beauty of the city intact (even as the local authorities strive to save Venice from the rising sea levels caused by climate change). While the famous landmarks—the Piazza San Marco, the Gallerie dell'Accademia, the Rialto Bridge, the Baroque jewel of Santa Maria della Salute—remain unchanged, I can imagine that Cantwell would be staggered by swarms of tourists crowding the narrow streets with their backpacks and wheelie bags, stopping to take selfies or calling or texting with their ubiquitous smartphones. Many of them do not behave particularly well. I spotted a warning (posted in four languages) at the entrance to the church Chiesa di San Moisè. In English, it read: "You are in a church. You are not allowed to behave indecently." Many of the cafes, bakeries, and shops of traditional Venice have been replaced by retail outlets selling Chanel, Hermes, Gucci, Dolce & Gabbana, Burberry, Victoria's Secret and every other recognizable global fashion brand. And yes, there is a McDonald's and Burger King on San Marco, the Venetian district that bears the brunt of the tourist tide.
Today, on the salary of a colonel, Cantwell would be priced out of his familiar haunts. His favorite hotel, the Gritti Palace, offers rooms at 900 euros a night; a Longhi club sandwich in the terrace restaurant runs 30 euros. While Cantwell could have the white-jacketed barman at Harry's Bar mix a Montgomery (a dry Martini made with a 15:1 gin to vermouth proportion), he would find his favorite drink very pricey. And he might not be able to run a tab, for the Cipriani family no longer has ownership of Harry's.
There's some irony in the fact that today's prosperous Venice is a product of the peace won by the fictional Colonel Cantwell and the real-life American and Allied soldiers who defeated Germany and Italy in the Second World War. Venetians have not had to worry about invaders since 1945, shielded by the West's resolve in defending Europe from the Soviet threat.
An imagined Venice
Of course, Hemingway's Venice never existed. The novelist's world is created, fabricated, reflecting experience and imagination. Hemingway drew upon his time in the city in the late 1940s: he was a famous writer with money to burn and a crush on Adriana Ivancich, a teenager whose family was of local nobility. He modeled the character of Renata on her: "Then she came into the room, shining in her youth and tall striding beauty and the carelessness the wind had made of her hair. She had pale, almost olive-colored skin, a profile that could break your, or anyone else's heart, and her dark hair, of an alive texture, hung down over her shoulders." When Ivancich read the novel, she didn't like it (reacting to its artificiality). She told Hemingway that a nice girl from a good family in Venice would never spend the day drinking or joining her lover in a hotel room.
In some ways, the novel is surprisingly insular. Hemingway largely ignores, or trivializes, Italian collusion with the Germans during the war. He never confronts head on the devastating impact of Fascism on Venice's small Jewish community. (That collaboration is addressed in Joseph Kanon's 2005 novel Alibi which doesn't shrink from exploring the ugliness of the war years in Venice.)
Before its publication, Hemingway believed Across the River was the best novel he had written, and he was unprepared for the savagely negative reviews from New York literary circles. E.B. White contributed a clever parody for the The New Yorker, "Across the Street and Into the Grill." Critic Maxwell Geismar wrote in the Saturday Review of Literature: "It is not only Hemingway's worst novel; it is a synthesis of everything that is bad in his previous work and it throws a doubtful light on the future." The novelist and screenwriter Raymond Chandler was more sympathetic in his assessment, writing to a friend: "Do they sense that the old wolf has been wounded and that this is a good time to bring him down?" Chandler added: "…he was not trying to write a masterpiece but in a character not too unlike his own trying to sum up the attitude of a man who is finished and knows it, and is bitter and angry about it."
Geismar's prediction about Hemingway's future proved wrong—just two years later the publication of The Old Man and the Sea cemented Hemingway's literary reputation, won him the Pulitzer Prize, and was cited by Nobel Committee when it awarded Hemingway the Nobel Prize for Literature in 1954. The old wolf had something left.
---
Copyright © 2017 by Jefferson Flanders