The modern spy thriller was born in Great Britain at the beginning of the 20th century. While the genre has moved from its upper class gentleman-adventurer roots, today's writers still borrow themes, structure, and tone from these classic novels.
Here's my list of the top ten classic British spy novels, the best of the historical best (presented in order of publication with all but one of these books written before 1965).
The Secret Agent (1907) by Joseph Conrad
Joseph Conrad's subtitle for The Secret Agent is "A Simple Tale," but the novel is anything but simple, as the Polish-English author serves up a story of turn-of-the-century London anarchist politics filled with irony, compassion, and reflections about the twists and turns of the human heart. It's been well received by readers and critics. The Modern Library has ranked The Secret Agent as the 46th best novel of the 20th century.
Adolf Verloc, the secret agent of the title, is a rather pathetic figure, running a seedy Soho shop and taking money to spy for an unidentified foreign power. Pressured by his employer, Mr. Vladimir, a calculating diplomat, Verloc accepts the role of agent provocateur in a plot to bomb the Greenwich Observatory, a symbol of scientific progress. The reactionary Vladimir hopes that the British government will respond with a heavy hand to this act of terrorism and will move firmly against revolutionary socialists and anarchists.
Verloc's world is shabby and unappetizing. His domestic circle includes his much-younger wife, Winnie Verloc, who has married him for security, not love, and her mentally-challenged brother, Stevie. Then there are the colorful and unsavory misfits in the anarchist cell Verloc has joined: The Professor, a suicidal academic who specializes in explosives, Comrade Alexander Ossipon, an ex-medical student with feelings for Winnie, the elderly Karl Yundt who calls himself "The Terrorist," and the idealistic Michaelis, who emerges from prison grossly obese and whose rich patroness pays to send him to health spas to lose the weight (unsuccessfully).
And yet there is nothing particularly admirable about the authorities (Chief Inspector Heat, The Assistant Commissioner, Sir Ethelred), the symbols of British law and order, and in their portrayal Conrad's sense of the ironic becomes apparent. Not surprisingly, things don't end well for Verloc. Conrad offers us a dark vision in The Secret Agent where moral ambiguity reigns and there are no last-minute heroics to tidy things up.
Many critics have noted Conrad's prescience about modern terrorism; Robert D. Kaplan has called The Secret Agent "a fine example of how a savvy novelist may detect the future long before a social scientist does." There are, indeed, disturbing parallels with 21st century concerns about suicide bombers, terrorist attacks on symbolic "soft" targets, the potential for false flag operations, and the balance a society seeks to strike between personal liberty and communal security.
The Man Who Was Thursday (1908) by G.K. Chesterton
While Chesterton's The Man Who Was Thursday includes spies and suspense, it's much more than a "spy thriller." Critic Simon Hammond recently argued in the Observer that: "The novel is a raucous carnival of genres: thriller, farce, detective story, dystopia, fairy tale and gothic romance. It can be read as a philosophical treatise or a fraught expression of religious conviction but above all it is gloriously entertaining."
At the start of the novel, we're introduced to two young Londoners, Lucian Gregory and Gabriel Syme, who argue over the nature of poetry—and we quickly learn that they are not who we think they are. Syme, in fact, is an undercover Scotland Yard detective on the look-out for anarchists. When he infiltrates a strange group of conspirators whose code names are the days of the week Syme becomes Thursday, one of the six men who follow their leader, the large and threatening Sunday.
As Syme/Thursday tries to stop an assassination plot by the anarchist circle, Chesterton's book takes on a Alice in Wonderland quality. Syme's encounters with the plotters become more and more surreal and at times the narrative takes on the qualities of magical realism.
The Man Who Was Thursday is a complex book, filled with symbols and allusions but lightened by Chesterton's wryly humorous view of the human condition. It's not surprising that in This Side of Paradise F. Scott Fitzgerald had his protagonist Amory Blaine read Chesterton's novel "which he liked without understanding."
The Thirty-Nine Steps (1915) by John Buchan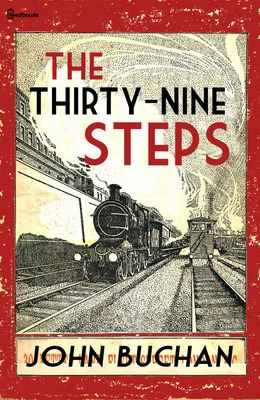 Buchan created the "innocent-man-on-the-run" thriller with this novel (a plot device borrowed by numerous suspense writers in the years that followed) and the film version (The 39 Steps) became a huge cinematic hit for Alfred Hitchcock in 1938. Richard Hannay has returned from Rhodesia to London and learns from a stranger, an American, of a plot to assassinate a visiting Greek statesman. When the American is killed, suspicion falls upon Hannay.
Hannay uncovers a scheme by the infamous Black Stone to assassinate the Greek premier Karolides. The rest of the novel finds Hannay on the run, chased by the police and a group of German spies, heading to the Scottish countryside (that Buchan loved and featured in many of his novels). There's little doubt that in the end the quick-witted Hannay will prevail, clear his name, and foil the plot but Buchan makes sure to entertain the reader with a "ripping good yarn" along the way.
As Buchan's grandson, Toby, conceded in a Daily Mail piece, the novel does see the world in decidedly Old School terms: "They are easy to laugh at now, these 'clubland heroes', stereotyped with clipped military moustaches, inextinguishable briars filled with strong shag, indestructible tweeds and stout footwear, and a habit of direct speech and, sometimes, even more direct action. Yet there is something of Keith Douglas's poem Aristocrats about them, too: 'How can I live among this gentle obsolescent breed of heroes, and not weep?'"
The Great Impersonation (1920) by E. Phillips Oppenheim
Oppenheim's novel begins with two men who look alike—Englishman Everard Dominey and Leopold von Ragastein, a German aristocrat—and he fashions his thriller around the notion of one being substituted for the other, a plot device that Mark Twain used in The Prince and the Pauper (1882) and Anthony Hope employed in The Prisoner of Zenda (1894).
A man claiming to be Everard Dominey returns to England from German East Africa after a long absence and, following instructions from German intelligence, looks to reintegrate himself into elite circles in Great Britain. Will his attempts at espionage be discovered? Dominey's troubled wife, Lady Rosamund, is puzzled by how different her husband seems upon his return; von Ragastein's former lover, Princess Stephanie Eiderstrom, is disturbed by his lack of passion. In the end, all is revealed, and we learn that an English country gentleman may not appear at first glance tough enough to take on the ruthless and powerful Hun, but he is!
(The Great Impersonation is fortunately free of some of the casual, and vicious, anti-Semitism found in some of Oppenheim's other novels from the period.)
Rogue Male (1939) by Geoffrey Household
It's the late 1930s and an English gentleman and sportsman, a hunter, tests whether he can get close enough to a Fascist dictator to assassinate him with a high-powered rifle. He doesn't pull the trigger, but is caught by the secret police, and tortured and beaten. He escapes, returns to England, and "goes to ground" when he realizes that, once the hunter, he has become the hunted.
What makes Geoffrey Household's Rogue Male so interesting is its juxtaposition of the placid, sleepy English countryside with a hidden life-or-death struggle. Household knows how to build suspense and his spare, lean prose propels the story forward.
Victoria Nelson notes that Rogue Male's protagonist is not a patriotic Buchan-like stalwart; for Household's hero "…only the personal is legitimately political." Nelson adds that this English gentleman "hates the state and respects the rights of the individual. He eschews all patriotism and believes in 'dying against,' not 'dying for.'"
A Coffin For Dimitrios (1939) by Eric Ambler
Who was Dimitrios Makropolous, also known as Dimitrios Talat and Dimitrios Taladis? English mystery writer Charles Latimer is visiting in Istanbul when Colonel Haki of the secret police invites him to view the body of a notorious criminal named Dimitrios. Latimer decides to explore Dimitrios' background, a journey that takes him to Greece, Bulgaria, Switzerland, and France, and exposes him to the seedy, demi-monde world that he has heretofore only imagined.
As Latimer learns about the "evil men do" and as he explores the limits of his own morality Eric Ambler's A Coffin For Dimitrios transcends its genre and asks more of the reader. At the same time, Ambler throws in enough witty asides and sly jokes to signal that his novel is meant to entertain.
Sarah Weinman has praised the "postmodern" qualities of this "startling, elegant masterpiece of espionage fiction" and noted: "More than any of his other novels, 'A Coffin For Dimitrios' stands out as a classic example of what Ambler termed 'the ape beneath the velvet'—the furious, pulsating violence beating beneath a smooth and placid façade."
The Quiet American (1955) by Graham Greene
Had John F. Kennedy not chosen Vietnam as a Cold War battleground, then Greene's novel might not have received the same level of critical scrutiny, and acclaim, that it later did. The protagonist, the quiet American of the title, is Alden Pyle, a CIA agent and Ivy Leaguer who is also dangerously idealistic. He is caught up in a love triangle with Thomas Fowler, a British journalist, and a beautiful young Vietnamese girl, Phuong, whose seeming passivity appears to mask her true feelings (and who has been seen by many critics as a symbolic stand-in for the Vietnamese at large).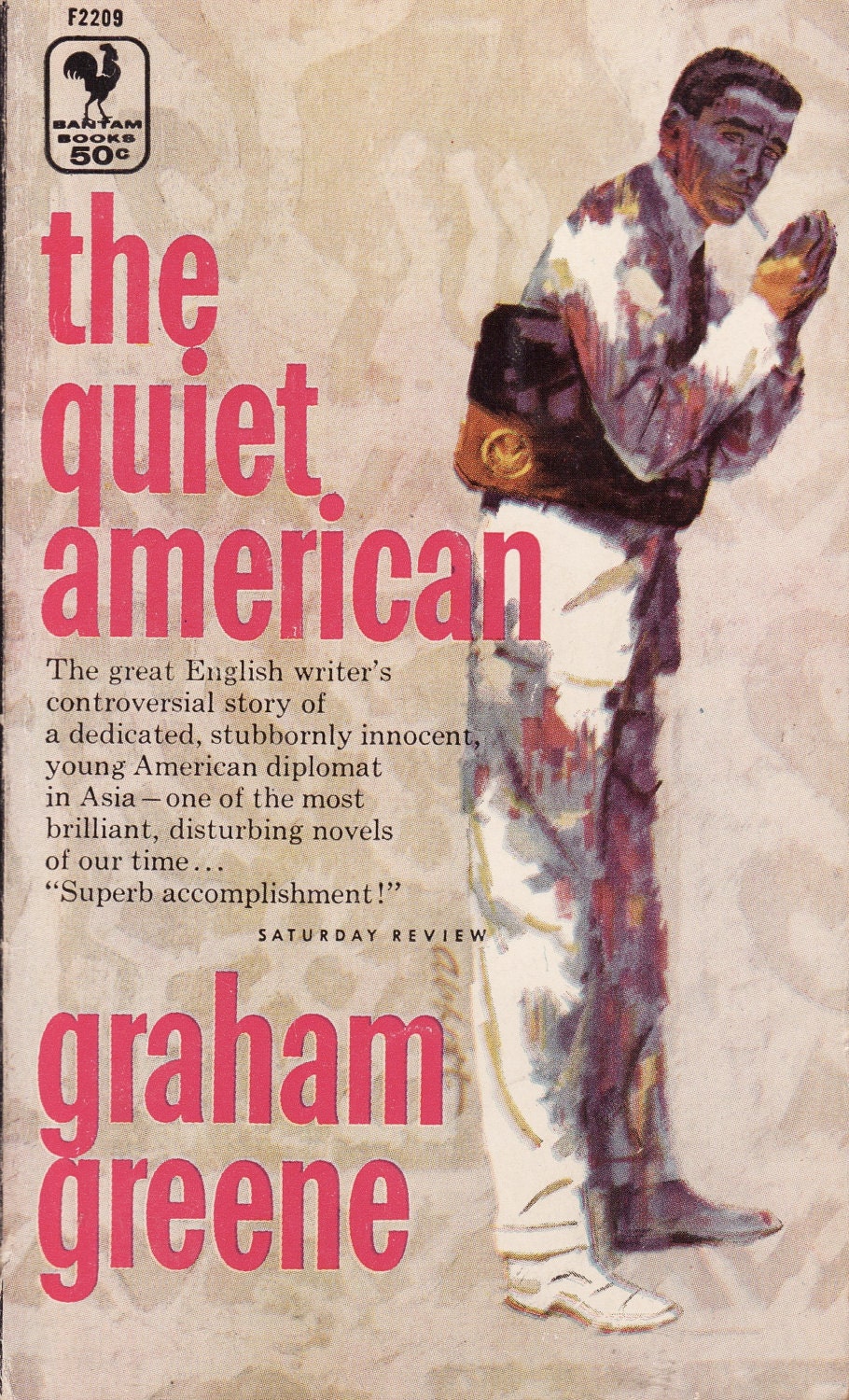 Pyle rejects both continued French colonial control of Indochina and a Communist takeover in favor of a "Third Force" solution promoting American-style democracy and freedom. His decision to covertly intervene in the local political scene has tragic consequences. Greene's novel, with its anti-American overtones, provoked a harshly critical review in The New York Times ("When Graham Greene grants primary justice to the Communist cause in Asia, and finds insupportable its resistance under the leadership of America, he raises inevitably this question: Has he reconciled himself to the thesis that history or God now demands of the church and of Western civilization a more terrible surrender than any required of the tormented characters in his fiction?") and only later was the author's vision of American arrogance hailed as prophetic.
The novelist Pico Iyer, who greatly admired Greene's book, has noted: "The novel asks every one of us what we want from a foreign place, and what we are planning to do with it. It points out that innocence and idealism can claim as many lives as the opposite, fearful cynicism."
From Russia with Love (1957) by Ian Fleming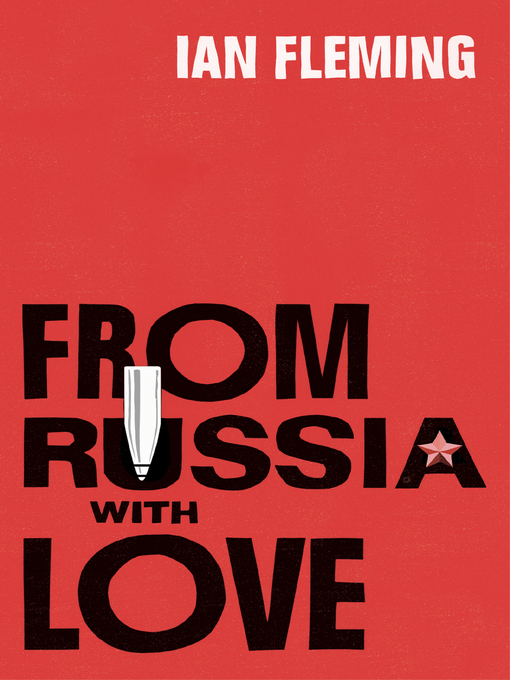 For anyone who has seen the film version of From Russia with Love, it's almost impossible not to think of the stunning Italian actress, Daniela Bianchi, as the alluring face and figure of Tatiana Romanova, the Soviet agent sent to seduce James Bond, the swashbuckling British secret agent with a taste for fast cars, martinis, and fast women. And then there was Colonel Rosa Klebb, head of Operations and Executions for SMERSH, the villainess of the piece, who is the anti-Bond Girl—short, dumpy, and (it is strongly suggested) not at all interested in men, not even those licensed to kill.
This was Ian Fleming's fifth novel to feature Bond, Agent 007, and it is perhaps his most literary effort. (The Times Literary Supplement called it Fleming's "tautest, most exciting and most brilliant tale.") Bond doesn't appear until relatively deep into the book, as first we learn of the elaborate "honey pot" trap devised to ensnare Fleming's cold-blooded hero and the novel ends in a way that suggests that the author had grown tired of the series.
Fleming once said of his creation, James Bond: "He's a sort of amalgam of romantic tough guys, dressed up in 20th Century clothes, using 20th Century language. I think he's slightly more true to the type of modern hero, to the commandos of the last War, and so on, and to some of the secret-service men I've met, than to any of the rather cardboardy heroes of the ancient thrillers."
The Spy Who Came in From the Cold (1963) by John Le Carré
Graham Greene called The Spy Who Came in From the Cold the best spy story he had ever read. JB Priestley said it possessed "an atmosphere of chilly hell." The novel became an international best-seller and made John Le Carré a household name and introduced a gritty, more realistic and jaundiced view of what the West's intelligence agencies did. (Le Carré was the pen name of David John Moore Cornwell, who had served in minor roles in both MI5 and MI6).
The protagonist of The Spy Who Came in From the Cold, Alec Leamas, a British intelligence officer, is the polar opposite of James Bond. As part of an elaborate cover story, Leamas is sacked from his job and then becomes involved with an English librarian and Communist, Liz Gold. His "down on his luck story" has been devised to allow Leamas to enter East Germany and implicate Hans-Dieter Mundt, the head of the East German secret service, as a British spy. Things go awry, however, when Liz Gold turns up, and Leamas learns that all is not what he imagined, and that Control and other members of the British espionage establishment can be as ruthless as their Communist adversaries.
Tinker Tailor Soldier Spy (1974) by John Le Carré
At the heart of Tinker Tailor Soldier Spy is a story of betrayal, personal and institutional. The central character, George Smiley, has been forced out at the Circus (MI6) and is brought back to investigate an overseas mission that may have been compromised by someone within British Intelligence. The plot of Tinker Tailor Soldier Spy is heavily influenced by the Kim Philby spy scandal, which revealed that England's upper class was indeed capable of betrayal.
What sets Tinker Tailor Soldier Spy apart is Le Carré's ability to create memorable characters like Smiley, Bill Haydon, Toby Esterhase, Jim Prideaux, and Control. He deftly illuminates Smiley's emotional landscape and how his sensitivity is both a great strength and an exploitable weakness. Le Carré also invented his own spy jargon (mole, lamplighters, scalphunters, housekeepers, the Cousins, etc.) that has the ring of authenticity and in at least one case—the term "mole"—is now in common usage in intelligence agencies around the world.
---
Copyright © 2014 Jefferson Flanders
All rights reserved
Click to purchase the critically-acclaimed First Trumpet Cold War thrillers by Jefferson Flanders: Herald Square, The North Building, and The Hill of Three Borders.