It has been a banner year for spy thrillers and espionage novels, with new books from some of the masters of the genre.
Friends and Traitors by John Lawton
The British traitor Guy Burgess, one of the infamous Cambridge Five spy ring, was notorious for his drunkenness, lack of personal hygiene, and proclivity for picking up younger men in public places (when homosexual liaisons were prosecuted as a crime). Some in London's elite circles found him witty and smart and overlooked his often crude and outrageous behavior. But the American officials who encountered Burgess in Washington in the early 1950s when he served as second secretary in the British Embassy were astonished that the British Foreign Office not only employed Burgess as a diplomat (despite his open anti-Americanism and dissolute lifestyle) but also allowed him access to confidential information. There were red faces aplenty in Whitehall when Burgess defected to the Soviet Union in 1951 along with fellow Cambridge spy Donald Maclean.
Burgess has always been a figure of fascination for British journalists and authors. Andrew Lownie's recent biography of Burgess, Stalin's Englishman: The Lives of Guy Burgess, suggests that he was a very effective intelligence operative, not a harmless "licensed jester" of the ruling class as he has often been characterized. The Burgess that John Lawton portrays in his latest Inspector Troy novel, Friends and Traitors, comes across as a well-connected and brilliant con man, not a master spy. Burgess finds acceptance as "one of us" by the upper class establishment—what Lawton calls "clubbable Britain"— despite his flaws. The novel—part detective story, part spy thriller—traces the friendship between Burgess and Lawton's protagonist, Frederick Troy, a chief superintendent at Scotland Yard. Troy and Burgess share an alienation from their privileged backgrounds.
The plot of Friends and Traitors centers around Burgess' desire to return to England from Moscow (a grim place he grew to hate). While in Vienna on vacation in 1958, Troy is approached by Burgess to help broker a possible homecoming. When an MI5 agent sent to meet with Burgess is murdered, Troy (whose father was a Russian émigré) becomes a suspect in the killing. He must clear his name and in doing so discover why powerful forces are determined to keep Burgess from returning to England. In the last third of Friends and Traitors, Lawton picks up the pace of the novel, and he keeps the reader turning pages to the very end.
A Legacy of Spies by John Le Carré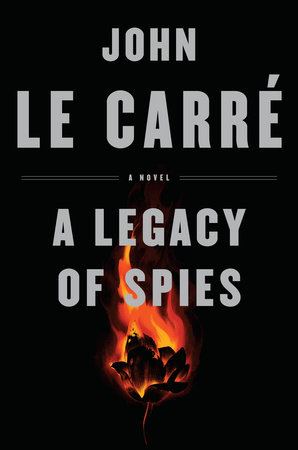 When John Le Carré's novel The Spy Who Came in From the Cold was published in 1963 to wide-spread acclaim, it represented a dramatic shift in tone for espionage thrillers, a clear departure from the derring-do of Ian Fleming's rakish super agent, James Bond. Instead, Le Carré (the pen-name of David Cornwell, a former British intelligence officer) offered a darker vision, of Western intelligence agencies that skirted moral and ethical lines in their struggle against their Soviet and East Bloc adversaries. The protagonist of The Spy Who Came in From the Cold, Alec Leamas, is far from glamorous: an aging MI6 agent, haunted by his failures in life, inserted into East Germany on a risky mission. Both Leamas, and his hapless lover, Liz Gold, are treated as disposable chess pieces in the spy game. The novel became an international best seller and was praised by critics and authors; Graham Greene called it the best spy story he had ever read.
Now, five decades later, A Legacy of Spies revisits Alec Leamas' botched mission and examines the moral choices made by the top British spymasters, including George Smiley (the hero of a series of Le Carré's books). Le Carré has made some intriguing choices in crafting the novel, employing Peter Guillam, a supporting character in the Smiley series, to recount the story. We don't encounter Smiley until the very end of A Legacy of Spies.
Guillam is summoned from retirement to answer questions about the Leamas affair: the British Secret Service is worried about lawsuits from family members and a possible Parliamentary inquiry. It's an interesting conceit: what legal or moral responsibility do the victors of the Cold War have for any "collateral damage" inflicted during the cloak-and-dagger operations of the 1950s and 1960s? As Guillam is quizzed by the lawyers, we learn more about the operation and its aftermath, and the many layers of deception involved.
While A Legacy of Spies is full of wry humor and engaging dialogue (which keeps our interest), it's not as dynamic or suspenseful as some of Le Carré's more recent books like A Most Wanted Man, which deals with the war on terror, or The Night Manager, which explores the illicit global weapons trade. There's some irony in that, because after the Cold War ended, there was speculation that Le Carré would struggle to find his literary way; in fact, he has found much to write about in a world confronting the challenges of ultra-nationalism, terrorism, and corporate malfeasance.
Le Carré makes a curious choice at the close of A Legacy of Spies; he has Smiley make the case for the pan-European project that British voters rejected in Brexit. While it fits with Le Carré's public support of Remain during the referendum campaign, it doesn't seem quite in character for Smiley. Yes, he is Le Carré's creation, but Smiley has always struck me as the traditional English gentleman who could recite, by heart, John of Gaunt's speech in Richard II: "This blessed plot, this earth, this realm, this England." Would he really warm to the notion of an unelected bureaucracy in Brussels setting policy for "this scepter'd isle"?
Defectors by Joseph Kanon
During the Cold War, several high-profile British Establishment figures defected to the Soviet Union, including Kim Philby, Guy Burgess, Donald Maclean, and George Blake, but there were few American moles of similar prominence who fled to Moscow. Agents like Alger Hiss, Julius Rosenberg, and Morton Sobell denied their complicity in espionage and stayed to face prosecution (and conviction) in the United States. Two members of the Rosenberg spy ring—the relatively-obscure American scientists Joel Barr and Alfred Sarant—did make their way to Russia and held high leadership positions in the Soviet military-industrial complex. Their story is told in Steve Usdin's masterful Engineering Communism: How Two Americans Spied for Stalin and Founded the Soviet Silicon Valley.
In Defectors, Joseph Kanon has imagined what it might have been like if an American double agent, an Alger Hiss-like figure, a true believer in Marxism and world revolution, had decamped to the Socialist Paradise. It's an intriguing premise, and Kanon has constructed a taut thriller around his defector, Frank Weeks, a Harvard-educated OSS veteran. Weeks had betrayed both his CIA colleagues and Latvian agents inserted behind the Iron Curtain during the early Cold War. The novel picks up his story years later, in 1961, as Weeks's younger brother Simon, a successful New York publisher, arrives in Moscow. Simon has come to finalize the details on Frank's about-to-be-published book, My Secret Life. (The KGB had encouraged the British defectors to write "tell-all" memoirs, largely as a propaganda exercise).
Simon is conflicted about seeing his brother, the infamous traitor. They were close during their Boston childhood, and Frank's betrayal and defection had not only come as a surprise to Simon but also had ended his promising State Department career. Their relationship is captured perfectly in this brief back-and-forth:
"You never change. I can still read your face," Frank said, a fond smile, the intimacy of drink.

"Yes? What's it saying?"

"You're worried. You don't want to take your hand off the checker, until you're sure. Remember how you used to do that? No move until you thought it was safe."
Kanon deftly brings the other characters in Defectors to life: Frank's wife, Joanna, who drinks to deal with the isolation of exile; Boris, the grim, proud KGB agent assigned to watch Frank; Pete DiAngelis, a CIA agent in Moscow who can't hide his dislike of Frank and all he stands for; and Gareth Jones, a forlorn British defector not above informing on his fellow Westerners. While Defectors is well-plotted, never flagging, it is Kanon's ability to illuminate the inner worlds of the people encountered in its pages that make it a novel well worth reading.
A Single Spy by William Christie
At the center of William Christie's A Single Spy is the character of Alexsi Ivanovich Smirnov, an orphan who lives by his wits in the lawless desert of Soviet Azerbaijan and is recruited into the NKVD in 1936. The spymasters in Dzerzhinsky Square have selected Alexsi because he speaks German and they send him as a teenager to Germany as a deep penetration agent. Alexsi is a survivor, ruthless when cornered, and he successfully infiltrates the Abwehr (German military intelligence) and begins to feed Moscow vital intelligence, including Hitler's plans for an attack on the Soviet Union (information which Alexsi's superiors ignore).
Much of the tension in the novel revolves around Alexsi's precarious position inside German intelligence circles and the risks he must take in communicating with his Soviet handlers. He becomes entangled in Operation Long Jump, the Nazi plot to kill Winston Churchill at the 1943 Teheran Conference of the Allied leaders. When Alexsi realizes that both German and Soviet intelligence agencies want the same outcome—the British leader eliminated—he also discovers that he has become expendable. (It's a threatening situation perfect for a resilient and imaginative survivor to overcome.)
A Single Spy is reminiscent of Alan Furst's Spies of the Balkans with its depiction of the way the NKVD trained and handled its agents, and with its deeply-researched period detail. The novel is an entertaining and historically informative read, and Christie's ability to build suspense is impressive.
The Good Assassin by Paul Vidich
Paul Vidich's second spy thriller, The Good Assassin, (a sequel to An Honorable Man), sends his hero, former CIA officer George Mueller, to 1958 Cuba. Mueller undertakes an informal mission to assess whether one of the Agency's men in Havana, Toby Graham, has "gone rogue" and is secretly assisting Fidel Castro's rebels with arms shipments.
There's much to like in Vidich's novel: he captures the pervasive corruption of dictator Fulgencio Batista's Cuba, the grinding poverty, the dominance of American mobsters and corporate interests, and the fear of SIM, the brutal Cuban secret police. Then there's sultry Havana, filled with casinos, bars, sex shows, brothels, and gawking tourists. (Vidich teases the reader with the prospect of Mueller meeting Cuba's most famous foreign resident, Ernest "Papa" Hemingway, but the hard-drinking author remains off-stage.)
Vidich stretches the boundaries of the spy genre. He has a literary style, with longish ruminations by his characters, and he's quite willing to drop readers into the middle of a scene and let them piece together the backstory. There are times when the novel seems unevenly paced, but The Good Assassin closes with a flourish.
On a historical note, Vidich is spot on in highlighting the covert support Castro received from some in the CIA. The conservative U.S. ambassador to Cuba, Earl E. T. Smith, later blamed the CIA and some diplomats in the State Department for enabling Castro's victory. The Cuban Revolution had its admirers in the United States (not just Herbert Matthews of the New York Times who declared Fidel's revolt to be "radical, democratic, and therefore anti-Communist.") While Castro may not have started out as a Communist, by the end of the revolution, those close to him, his brother Raul and Ernesto "Che" Guevara, were determined to establish Latin America's first Marxist-Leninist state. That they succeeded has been a tragedy for the Cuban people.
Vienna Spies by Alex Gerlis
Vienna Spies is set during the final months of World War II. It has become clear that Germany will lose the war and Austrians realize that their embrace of National Socialism will come with a heavy price. The Red Army is driving the Wehrmacht back toward the west, and it is only a matter of time before Vienna falls.
In Alex Gerlis' taut thriller, British policy makers have become concerned that Soviet leader Josef Stalin will renege on promises made to support Austria's post-war neutrality and independence. They decide that they need to find and protect Austria's leading anti-Nazi politician, one Hubert Leitner, who is hiding in Vienna and who could lead a future government sympathetic to the Allies. MI6 sends two agents, Rolf Eder and Katharina Hoch, who pretend to be a Swiss married couple (he a banker from Zurich, she a nurse). At the same time, the Soviets have also dispatched an experienced NKVD field agent, Viktor Krasotkin, to locate Leitner.
Vienna Spies captures the unrelenting tension for spies living behind enemy lines. The threat of being denounced to the authorities is always present, and the Gestapo is eager to hunt down anyone resisting Nazi rule. Gerlis is aware that modern readers might be skeptical about the ability of foreign agents to survive in a hostile city filled with supporters of Hitler, and he highlights the immense difficulties of trying to establish a cell under such circumstances. (In his Author's Note, Gerlis cites a scholarly work, The Austrian Resistance 1938-1945, and interviews with Austrian refugees from the time, to bolster his case that they were pockets of anti-Nazis in the city).
Prussian Blue by Philip Kerr
Philip Kerr's latest thriller, Prussian Blue, features his battered hero/anti-hero Bernie Gunther, a former Berlin detective of the Weimar era, once again in peril because of his checkered past. The novel offers parallel storylines: Gunther is on the run in 1956 France, chased by the East German secret services after he has refused to assassinate a Stasi agent in England (who was his lover); he finds himself flashing back to his investigation of a murder at Berchtesgaden (Hitler's Alpine lair, the "Eagle's Nest") in the late 1930s. There are twists-and-turns along the way, but the stories eventually overlap before they are resolved.
One of the more intriguing aspects of Kerr's Bernie Gunther novels is their clear portrayal of the top Nazis not as rulers of a modern nation state but instead as corrupt crime family bosses, intent on amassing money and power (justifying their brutal actions by a horrific ideology). Traditional histories sometimes miss this element. Prussian Blue captures this insight, as Gunther learns during this investigation that the local Nazis in Berchtesgaden are dealing drugs and running a prostitution ring. Kerr is also clear-eyed about his protagonist: Bernie has committed crimes, done horrible things to stay alive—but his moral compass is not broken, and this native Berliner does what he can to set things right in his rough-and-ready way.
Prussian Blue draws on recent historical research suggesting that the Third Reich's leaders and soldiers were jacked up on stimulants, particularly Pertavin, a version of methamphetamine. There is some irony in the hypocrisy of Nazis high on meth when their Führer was a strident non-smoking vegetarian (with his own secret drug habit).
If there's a weakness in the novel, it's that Kerr asks the reader to suspend belief when it comes to Bernie Gunther's colorful and often subversive verbal pyrotechnics, which are typically aimed at high-placed Nazis and other grim authority figures. The wise-cracking Bernie has "no filter" (to use a 2017 term), when expressing his views. In real life, his sarcasm, thinly-veiled political insults, and outright insubordination would have bought him a one-way ticket to a concentration camp, no matter how useful his talents as an investigator might be.
Lenin's Roller Coaster by David Downing
It's been 100 years since the Russian Revolution, and David Downing has chosen the world-changing events of 1917 as the backdrop for his latest Jack McColl novel, Lenin's Roller Coaster. His globe-trotting protagonist, McColl, a British spy, holds much more progressive political views than, say, John Buchan's resolute Tory patriot, Richard Hannay (who had little use for the infernal Huns or for the subversive Bolshies!): McColl has his doubts about British colonial policy and Whitehall's approach to the revolutionaries seeking reform in Russia.
As the novel opens in the winter of 1917, the Allies and Germans face a bloody stalemate in the trench warfare raging in France and Belgium. While the Czar has been deposed, the British hope to keep the Russians fighting the Kaiser on the Eastern Front. The Bolshevik leader Vladimir Lenin wants Russia to withdraw from the war, which (along with his anti-capitalist ideology) make him persona non grata for the British and French.
McColl is sent on an undercover mission to Central Asia, ordered to stop supplies from reaching the Germans. After a series of harrowing adventures, he ends up in Moscow, where his lover, the Irish-American journalist Caitlin Hanley, has taken up residence covering the Revolution. There, London tasks McColl with a dangerous and morally-dubious mission—to assist the White Russians, the counter-revolutionaries conspiring against Lenin and his government.
Downing's fictional account of the early days of the Russian Revolution in Lenin's Roller Coaster is largely sympathetic, capturing the excitement and idealism of the feuding socialists and anarchists who thought they were on the brink of altering world history. They were, just not for the better—the 20th Century butcher's bill for adopting Marx's state socialism (Communism) approached 100 million dead. This creates a problem for Downing: readers in 2017 may find it difficult to empathize with those (like Caitlin Hanley) who fervently embraced the Bolshevik experiment with its inevitable descent into state terror. As historian Sheila Fitzpatrick noted recently in the London Review of Books, the current scholarly consensus is that: "If there is a lesson to be drawn from the Russian Revolution, it is the depressing one that revolutions usually make things worse, all the more so in Russia, where it led to Stalinism."
In his concluding historical note, Downing acknowledges that the outcome of the "grisly Soviet experiment" makes it hard to understand "the inspiration provided by the original revolution—one that captivated millions of men and women in the interwar years and beyond…" Yet, there are disturbing echoes of that same ideological fervor in today's challenges to liberal democracy mounted by populists of the extreme Right and Left in Europe and the United States. Radicalism is making a comeback. Sadly, the appeal of utopian solutions, whether socialist or nationalist, hasn't died despite the sobering lessons of history.
A Divided Spy by Charles Cumming
It's not easy to write a believable spy thriller set in the here-and-now, because these days reality (Russian hacking, the Deep State, jihadist attacks in Europe's major cities, Wikileaks, etc.) often is stranger than fiction. Today's headlines about real world espionage and clandestine skulduggery are hard to top. Charles Cumming's latest novel, A Divided Spy, is very current in its concerns: Russian espionage directed against the West, and the threat ISIS-inspired violence poses to Western Europe. His protagonist, former MI6 officer Thomas Kell, returns to action, haunted by a lost love and eager to take revenge on the Russian FSB officer, Alexander Minasian, he holds responsible. When Minasian is spotted at an Egyptian resort with an older man in what appears to be a gay relationship, Kell sees an opportunity (through blackmail) to avenge the murder of Rachel Wallinger, his lover.
Resolving this plot line would be more than enough for most authors, but Cumming weaves in a further complication: a potential terror attack on British soil. A young British-Pakistani man, Shahid, has been recruited by ISIS for nefarious purposes, sent to the seaside resort of Brighton, where he blends into the community. When Kell is alerted to this jihadist plot, he must convince a skeptical MI6 establishment of the looming danger with time running out.
Cumming has researched the process by which young Muslim men in Great Britain are drawn into the sick jihadist fantasies of ISIS and this informs the novel in a powerful way. He provides a chilling portrait of Shahid, a man torn between new-found religious fervor and his upbringing in the secular West. Just as disturbing: Cumming suggests British counterintelligence is unprepared to deal with the threat of lone wolf terrorism. A Divided Spy can be read as a warning of what may lie ahead, and an implicit call for a ratcheting up of internal vetting and surveillance in the United Kingdom.
---
Here are past lists of top spy thrillers. You can click for:
Ten classic British spy novels
---
Copyright © 2017 Jefferson Flanders
All rights reserved
Click to view the video trailer for Jefferson Flanders' critically-acclaimed: First Trumpet Cold War trilogy.
Click to purchase the First Trumpet novels: Herald Square, The North Building, and The Hill of Three Borders.